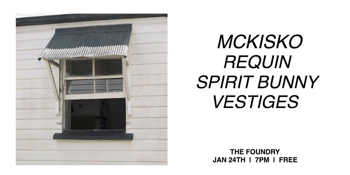 Requin EP Launch w/ Mckisko, Spirit Bunny, Vestiges (FREE)
The Foundry, Brisbane (Fortitude Valley, QLD)
Thursday, 24 January 2019 7:00 pm
Thursday 24th Jan | Doors at 7pm | Free entry | The Foundry
McKisko
Poetic reflections of the everyday housed in devastating, minimalist arrangements. Mckisko's voice and melodies project an affecting, disarming truth.
https://mckisko.bandcamp.com/
Requin
Shark inspired band. Art angled pop from Toowong, QLD.
https://birdinthehouse.bandcamp.com/album/the-noisy-miners-swoop-him-ep
Spirit Bunny
Ear-searing hyperreal pop music. Earnest voices, gritty beats, walls of Commodore 64 and all manner of racket from circuit-bent toys and Casio keyboards. Spirit Bunny use antiquated technology to make foward-looking music. They sound like nothing else.
https://spiritbunny.bandcamp.com/
Vestiges
Tense and affecting angular post hardcore/skramz. Lyrics explore systematic racism and wider oppression. Set to release what will be an excellent EP soon.
https://teamglasses.bandcamp.com/album/one