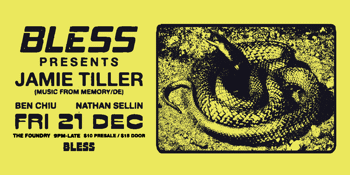 A Love Supreme Presents
BLESS
with Jamie Tiller, Ben Chiu, Nathan Sellin
The Foundry, Brisbane (Fortitude Valley, QLD)
Friday, 21 December 2018 9:00 pm
Happy BLESSMAS! After the all mighty Jamie Bennett tore the lid off it in November we have made it to the last BLESS of 2018. What better way to close out the year than with a special international party featuring the ever influential Jamie Tiller and his bag of tricks!

A major part of whats considered one of the most exciting labels to emerge in the last 5 years, 'Music For Memory' and part of the original Redlight Records crew, Mr Tiller's influence on the world of music in recent years should not be underrated. Jamie has been digging since a young age travelling extensively across European cities on an endless quest for the most amazing music you've never heard. Alongside fellow record connoisseur and party starter, Tako Reyenga, Jamie has shaped the label to become synonymous with the release of visionary electronic music new and old.

Witnessing a Jamie Tiller set you'll hear him champion anything from visionary African electronic to Japanese wave, oddball house to Balearic and neo-classical works, hidden Brazilian gems to reggae and dub and anything in between from musicians past and present. With years of dusty fingers and a unique sensibility in seamlessly bringing otherwise juxtaposed musical sounds together, he has been known for turning dance floors upside down and inside out. His crates are as deep as they come and he is never afraid to showcase whats at the depths of everyone of them.

Come and close out a year of BLESS with this special international guest and say goodbye to 2018. It's going to be a goodie, don't say we didn't tell you.

Support coming in hot from Local Transmission's Nate Sellin and A Love Supreme's own Ben Chiu.