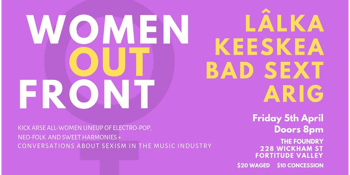 Women Out Front Gig: LÂLKA, Keeskea, Bad Sext, ARIG
The Foundry, Brisbane (Fortitude Valley, QLD)
Friday, 5 April 2019 8:00 PM
Tickets available on the door

Every year on International Women's Day, there are multiple events celebrating the talent of female musicians. But it got us thinking: shouldn't this be happening more often?

So my office is organising a gig night at the Foundry on Friday, 5 April to reinforce the message that putting women up front shouldn't be a once-a-year exercise. We've got an all-women lineup featuring LÂLKA, Keeskea, Bad Sext and ARIG.

Recently there's been a bit more attention to the challenges women face in the music industry (although still not enough), and we're hoping this gig could double as a space for a few women to share their thoughts and experiences.

We're programming four of Brisbane's brightest acts for only $20 on the door, or $10 for concessions. All proceeds will go directly to the artists. (If the $10 concession price is still a bit steep for you, we're happy to offer free entry for volunteers who help with postering and promo.)

On the night, we'll also be displaying and handing out signs that encourage people in venues to make spaces safer for women. Hopefully event organisers will take these home with them and use them at their own events.

This show is taking place on the unceded sovereign lands of the Jagerra and Turrbul Peoples, and we acknowledge and pay respects to their elders past and present.