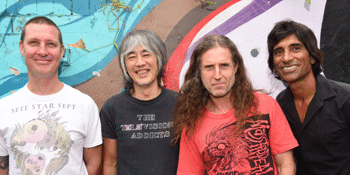 Punkfest presents
Hard-Ons
with Fat, The Cutaways + Copius
The Foundry, Brisbane (Fortitude Valley, QLD)
Saturday, 23 November 2019 8:00 pm
The Hard-Ons are back with their rampaging 12th studio album "So I Could Have Them Destroyed" which is released on Friday 11th October via Music Farmers. Today, they deliver the first taste of the album by dropping new single "Harder And Harder".

Clocking in at a concise 30 minutes through 12 tracks, "So I Could Have Them Destroyed" is a wild but focused memorandum of the current incarnation of the Hard-Ons. Original founding member Keish is welcomed back into the fold, joining drummer Murray and co-founders Ray and Blackie.

"So I Could Have Them Destroyed" sees the Hard-ons distilling their best musical traits. Brutal velocity. Rampaging guitars. Throbbing rhythms. Beautiful harmonised vocals. Here are 12 electrifying reasons why some artists get better with age. Good to see Hard-ons sticking to their tried-and-true dogma: NO FAT - JUST MUSCLE.