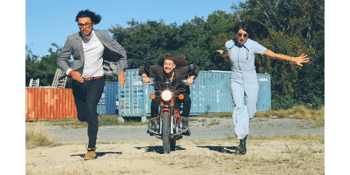 Jet Black Cat Music Presents
Buttercats "The Way i Dance" Single Launch
With Special Guests Quivers, AKA Lui
The Foundry, Brisbane (Fortitude Valley, QLD)
Friday, 28 June 2019 8:00 PM
Have you ever dreamt? ​Jet Black Cat Music​ and Ground Control Music Management are thrilled to invite you to the dream of the century, on Friday 28th of June at The Foundry. All in celebration of RnB-insipired Disco Soul trio ​Buttercats​ releasing their debut single, The Way I Dance (out June 7), it will be a night of disco, dancing and dreams that will raise you so high that you'll think your name is Jupiter.
Brisbane band Buttercats formed in 2018 when frontman Tim Watkin teamed up with his sister, percussionist Jaymee Watkin, and Marc Dubois, bass player and producer. The band was born when Tim moved to Brisbane from Cape York, where he'd been playing guitar instead of attending high school; timing well with Jaymee returning home from touring as drummer for Australian songstress, Emma Louise. Marc's bedroom producer past then added a modern edge to the soulful inclinations of the siblings. A year after it's inception, Buttercats have poured their souls into an electrifying live show that captivates and excites, with an emphasis on helping people of all walks of life step into a melty, glistening dewdrop of euphoria.
The night will also be blessed by not 1 but 2 other Aussie dreamboat acts. Melbourne band, Quivers who have just returned from performances at SXSW and currently have their latest single on high rotation on Triple J. Quivers is said to make cathartic guitar pop that jangles and shimmers somewhere between 1980s Australia and 1990s America.

Byron Shired-based Indie-dance artist, AKA Lui will also be performing a set, following the release of his latest single 'Hey! I Don't Want That Anyway'. Combining disco-infused beats with groove-laden bass and guitars, amid a punch of 80's inspired production, AKA LUI presents a style of his own, but with a hint of nostalgia, reminiscent of the great indie-pop luminaries of our time.

Following the 3 bangin live sets, a line up of Jet Black Cat's favourite DJs will take control of the night, keeping the boogie fresh and the party poppin through the night.